Friday night the family and I attended a surprise party for my brother's girlfriend's 30th birthday.  There was dancing, shrimp boil and cake.  What more could you want for a Friday night?!
This is what I wore.  I knew it would be hot and although I'm prone to wear jeans, but just didn't feel like being confined.  I asked hubs about 10 times if he was sure these shorts weren't too short to wear with this shirt and he assured me they weren't.  But I think he just liked me in the shorts and didn't want me to change hehe.  I also wore this shirt to church on Sunday with my cropped skinny pants and it was really cute styled that way too.
Blouse: TJ Maxx, recent, Shorts: NY&C, Necklace: Shoplately, Ring: Kohl's, Watch: Walmart, Shoes: Hautelook
Here are a few more pics from that night.
Me and the birthday girl, Jody
Me and my lil brother, Dave
Me and the husband
me and the fam!  love them so much!
my stepdad and mom with the kiddos
us girls
Rayna and I tore up the dance floor after the sun went down.  And boy was I glad that I didn't wear jeans.  I worked up a major sweat with all that dancing, and we had the best time.
Linking up:
The Pleated Poppy for WIWW
Doranda with Watch What I'm Wearing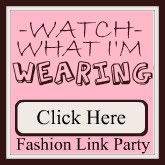 and Harper's Happenings for Steppin' Out
Transatlantic Blonde for WIWW