This outfit is really simple, but it was cute and comfy.  I wore this to a doctor's appointment last week to have a lipoma removed on my back :\  I honestly went in to the appointment all "Hey, no biggie!".  Not thinking, "Hey, they're gonna CUT YOU OPEN!"
Duh.
I choked down the anxiety but cried like a big baby when the doctor came in to give me the numbing shots.  Just when I thought he was done, he'd stick me again.  HOLY MOLY, it was painful!
All's well now.  Well, it will be once I'm all healed up.  Good news is the lipoma was benign and now it's out and not causing me any more worry or discomfort.  Can I get an amen?  Amen!
Um, I just amen-ed myself.
Moving on to the outfit!
Tunic: H&M, Tank: Target, Necklace: F21, Skinnies: Seven from TJ Maxx, Wedges: Restricted from Hautelook, Ring: Kohl's, Bag: Bella Luca from TJ Maxx, Toenail polish: Rose by Julep
Do you ever experiment with your clothes and find new ways to wear things and it feels like you've hit the wardrobe jackpot?  Well this was a really simple change and I don't know why I never tried it before….but I cuffed my skinnies!  Ok, I kinda know why I've never tried it before…I sort of have an aversion to anything cuffed.  I dunno why, but even with dress pants, if they have I cuff I tend to shy away.  But I love the way these skinnies look cuffed and now I'm wearing them with everything!
What do you shy away from?  Try something new this week!
Linking up:
The Pleated Poppy for WIWW
Doranda with Watch What I'm Wearing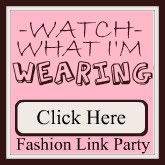 and Harper's Happenings for Steppin' Out
Transatlantic Blonde for WIWW